Beat the swimming demons
Your mind controls your most legendary swim race
Swimming at your best
Mental toughness is the discipline that helps you maintain a calm mind and the perfect strokes. You can train your brain to cope with the external factors that affect your start, influence your breathing, and neutralize mind chatter. Ultimately, you will swim better and faster, and win more competitions.
The Problem
Does this sound familiar?
"Will I be fast enough today?"
"I am so nervous."
"What if I lose today?"
"What if the others are faster than me?"
You've done your laps, you've practiced your turns over and over. Now, you need better times to win more events. But you're tight and have terrible nerves and end up swimming slower than you practiced. These are the demons inside of you trying to interrupt you from swimming at your best.
Calm down. Take a moment to be mindful of what is happening in your head. Lower your anxiety level.
It's time to focus on your mindset as much as you work on your strokes.
Swimming Psychology Coaching
When swimmers can get out of their head and are present before a performance, during transitions, and after mistakes, they are able to move more fluidly and let go of mistakes.
If you allow yourself to be more aware of what you are doing in the present moment, you can learn how to recover from challenges or mistakes that come up during your meet.
Effective moments that set you up for success include routines before every performance, as well as learning how to better refocus and reflect.
Dr. Michelle knows the water and all about swimming and wants you to be more confident without working harder:
Works with all levels of swimmers – Olympic, college, and junior swimmers
Competed and coached swimming and triathlons
Worked with Division I Cal Berkley swim team
Beating the Competition Demons
Every time you go to a swim event the devil shows up, doesn't it? Maybe it's a particular meet where your nerves show up, or it's the elements around you. Read this book to help you lower your times and win more meets.
Designed for elite swimmers performing in very demanding, highly competitive situations, such as swim meets or triathlons.
Let's begin your journey with this interactive book – a free gift for you. No strings, just send your information and you'll receive an ebook immediately and future updates from Dr. Michelle. Your information will not be shared and you can unsubscribe at any time.
Real results for real people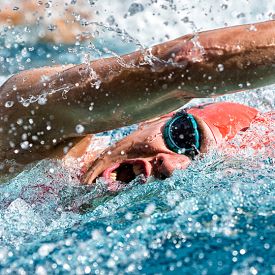 Case Study: Olympic Swimmer Comes Back from Losing
THE PROBLEM
Johnny* had been a top ranked Olympic swimmer, but found his times slowing down after losing an important race. In our first session together, we uncovered that he had not lost many races during high school or college and didn't know how to deal with losing. In addition, he started to experience panic attacks before meets and had trouble breathing in the water.
THE SOLUTION
Our first step was to examine what losing meant to Johnny and to acknowledge what it feels like to lose. We talked about the nerves and anxiety present before a meet and how they were what led to his losing. After losing big races, he had begun to focus solely on winning rather than the importance of each stroke. We developed a plan for dealing with the nervous tension and helped him figure out how he needed to show up to swim his best. In our sessions together we were able to set some small, realistic goals that Johnny could meet to help with confidence. We worked on developing a practice of leaving it all in the water where he dialed down the pressure to win by concentrating on the present and giving each stroke 100%. We also identified healthier, more sustainable motivations to swim that weren't associated with winning or losing (e.g. that swimming was fun and made him feel strong).
We met weekly in my office to evaluate progress and make adjustments, as well as, texting before meets.
THE RESULT
In four months of mental coaching, Johnny's times went down, his rankings went up, and he came back and won a silver medal. Our work together continues to both fine-tune and address new challenges.
MENTAL TOOLKIT
We developed a personalized mental toolkit for Johnny which included:
A pre-meet routine to get him in swimming mode
A way to maintain focus and refocus during races
A routine to maintain focus, sense of calm, and reset between each swim
A list of success indicators that could help him feel good about a race whether he won or lost. This list included winning but winning wasn't the only thing
*Names have been changed to protect privacy.
PERFORMANCE PSYCHOLOGY COACHING
Learn more about Dr. Michelle's approach and proven philosophy that helps elite swimmers transform their struggles into outstanding times in the pool and in open water. Her process uncovers the root of the problem and empowers swimmers to control each unique scenario.
The latest on swimming psychology
Read more about the constant challenges that swimmers experience and how to better deal with nerves, negative chatter, and basic distractions.